Places to Visit
Armstrong Redwoods State Reserve - Armstrong Redwoods preserves 805 acres of the stately and magnificent Sequoia sempervirens, commonly known as the coast redwood. The serene, majestic beauty of this Grove is a living reminder of the magnificent primeval redwood forest that covered much of this area before logging operations began during the 19th century. These trees stand together as a testament to the wonders of the natural world.
Learn More
Sonoma Coast State Beach - Long sandy beaches below rugged headlands, a craggy coastline with natural arches and secluded coves are features that make Sonoma Coast State Beach one of California's most scenic attractions.
Learn More
From the River's Top Spots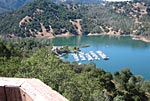 Lake Sonoma Overlook
- Head to the tallest hill above Lake Sonoma and Dry Creek Valley. Walk one hundred feet straight off its steepest side, then ascent another twenty feet straight up. You are now at the Lake Sonoma overlook. The most incredible 360 degree view the Russian River has to offer.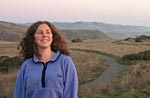 Vista Trail
- Climb high in your car along the giant masses of rock and dirt pushed up out of the earth's crust by the forces of tectonic plates. As you cut back and forth the coastline stretches out beneath you then is hidden as you drive behind some hills and into the the parking lot of the Vista Trail. The drive up gives a taste of the landscape but the full impact is yet to come. From your hidden point at the parking lot take the trail out along the bluff. The suspense builds with each turn along the trail, more and more is revealed. Finally, at just the right moment, you reach the end of the bluff and stand in awe of the view. This is the edge of the continent.
Popular Activities
For Mom and Dad
"Crybaby Tuesdays"
Rohnert Park 16
Rohnert Park
www.readingcinemasus.com/CryBaby.htm

Every week, Reading Cinemas presents the "Crybaby Matinee". Relax and enjoy a movie without worrying about unexpected tantrums or feedings in the dark. They keep the lights dimmed, the sound volume down, and the movies coming, and provide a baby changing table and stroller valet. Regular matinee admission for adults and children under 5 get in free.



Special Events
Summer Nights on the Green
(June, July, August)
Windsor Town Green

Information & Directions: (707) 838-1260

http://www.ci.windsor.ca.us/index.aspx?NID=342
http://www.starrymovienights.com/

Tuesday Kids' Movies
June 1 - August 10
Fifteen minutes after sunset

June 1 - Monsters vs. Aliens (PG)
June 8 - Cloudy With a Chance of Meatballs (PG)
June 22 - Night at the Museum Smithsonian (PG)
June 29 - Ice Age Dawn of the Dinosaurs (PG)
July 6 - No Movie
July 13 - "Christmas in July" Elf (PG)
July 20 - Alvin and the Chipmunks Squeakquel (PG)
July 27 - Tooth Fairy (PG)
Aug 3 - Percy Jackson and the Olympians (PG)
Aug 10 - Avatar (PG-13)

Thursday Live Concerts
June 17 - August 26
6:00 to 8:00 p.m.

June 17 - Fred McCarty Band (Country, Cowboy, Cajun & Swing)
June 24 - Wonder Bread 5 (Rock)
July 1 - Miss Kitty and the Big Dogs (Swing, Rockabilly & Jump Blues)
July 8 - Orquesta Borinquen (Latin Mix)
July 15 - Notorious (1980's)
July 22 - Tommy Castro (Blues, R&B, Rock)
July 29 - Pride & Joy (Motown, Cover)
Aug 5 - Nathan and the Zydeco Cha Chas (Zydeco)
Aug 12 - The Soulshine Blues Band
Aug 19 - Linda Ferro Band (Blues, Rock)
Aug 26 - Beatles Flashback

Come picnic, play and dance with your family, friends and neighbors on Windsor Town Green every Thursday night of the summer--FREE!



Indoor Activities

Boulevard Lanes
1100 Petaluma Blvd. South
Petaluma
(707) 762-4581
www.amf.com/boulevardlanesca/centerHomepage.htm

Bowling.


Cal Skate - Rohnert Park
6100 Commerce Boulevard
Rohnert Park
(707) 585-0500
www.calskate.com

Roller blading and skating center.


Chuck E. Cheese
601 Rohnert Park Expressway
Rohnert Park
(707) 586-1949
www.chuckecheese.com

Chuck E. Cheese's features age appropriate games, rides, prizes, food and entertainment that children of all ages from toddlers to big kids will love. They also provide great food for the family including freshly baked pizzas and a garden fresh salad bar. They are a great place to take the kids for everyday fun or for special occasions such as birthdays, play groups and school fundraising events.


Double Decker Lanes
300 Golf Course Lane
Rohnert Park
(707) 585-0226
www.doubledeckerlanes.com

Bowling, video arcade, pool tables, and snack bar. Rock-N-Glow bowling on Friday and Saturday nights.


Jack and Jill's Place
217 Western Ave.
Petaluma
(707) 981-7155
www.jackandjillsplace.com

A drop-in play center. Come have a cup of complimentary coffee or tea (served until 11:00am) while you watch your child play in a bright clean play space. Complete with train tables, dinosaur table, castle table, construction area, dress-up, stage, art area, pretend house, restaurant and vet clinic. Your child will love to use his or her imagination as they explore their surroundings. Jack and Jill's provides comfortable chairs and a couch where parents can relax and talk to other parents or use our free WiFi while watching their children.


Sonoma County Library Children's Programs
(Various Locations)
Library Calendar


Snoopy's Home Ice
1667 West Steele Lane
Santa Rosa
(707) 546-7147
www.snoopyshomeice.com

Nestled among towering Redwoods, with faithful reproductions of Swiss chalet facades and panoramic scenes from the Swiss Alps, Snoopy's Home Ice feels like an Alpine village in a Redwood Forest. A Santa Rosa icon for over 40 years, Snoopy's Home Ice offers a unique atmosphere for families to enjoy recreational ice skating and a world-class facility to support the goals of local athletes in the sports of Ice Hockey and Figure Skating. Home to the Warm Puppy Café and Snoopy's Gallery & Gift Shop, the arena complex is also a popular destination for Peanuts fans from across the globe.


Vertex Climbing Center
3358a Coffey Lane
Santa Rosa
(707) 573-1608

Climbing and fitness. Vertex was voted one of Sonoma County's best places for kids and adults to have fun and get fit. Come challenge your mind and body on 35-foot-high sculpted walls.

Outdoor Activities
State and Regional Parks

Park Info

Howarth Park
630 Summerfield Rd.
Santa Rosa
Train Station: (707)543-3425
Boathouse: (707)543-3424
Picnic & Party Reservations: (707) 543-3282
http://ci.santa-rosa.ca.us/departments/recreationandparks/programs/howarthpark/Pages/default.aspx

Mini-steam train, carousel, pony rides, bouncy house, animal barn, boathouse (for renting paddleboats, kayaks, canoes, sailboats and rowboats) and the Playland Store (featuring a variety of candy, ice cream, drinks and snacks).


Safari West Wildlife Preserve & African Tent Camp
3115 Porter Creek Road
Santa Rosa
(800) 616-2695
(707) 579-2551
www.safariwest.com

From open-air authentic safari vehicles, you will view hundreds of exotic animals, including cheetahs, zebra, antelope, and giraffes in this 400-acre wildlife park designed to give the animals the ability to interact and roam about freely, and give visitors a once in a life time experience - a wine country safari. Eat at Delilah's snack shop or at the Savannah Cafe. Safari West also offers overnight luxury "camping" in raised tented rooms.


Scandia Family Fun Center
5301 Redwood Drive
Rohnert Park
(707) 584-1398
www.scandiafunland.com

Two 18-hole miniature golf courses with tiny buildings, bridges and waterways. Also featured are 18 batting cages with slow pitch, fast pitch, and 40mph to 80mph machines. Another unique offering for the whole family are the bumper boats equipped with water sprayers: a great way to cool off on a warm day. And don't forget to stop by the Lil' Indy Raceway with a track designed to give you the feeling of actually racing along its straight track and banked turns. There are both single and double cars, so all ages can enjoy the race.


Train Town
20264 Broadway
Sonoma
(707) 938-3912
www.traintown.com

"The most well-developed scale railroad in the Americas" and an adventure for all ages. It features a miniature steam railway that winds its way through 10 acres filled with over 7,000 trees and a 50-foot clock tower. Your journey will take you over five bridges and trestles, through two tunnels to the hamlet of Lakeview where the scale is three inches to the foot. Train Town includes three full-sized cabooses, dating from the 1930s and '40s to explore at your leisure. Children will also enjoy a petting zoo and vintage amusement rides including a carousel and a 46-foot fully restored ferris wheel.



Museums
Charles M. Schulz Museum
2301 Hardies Lane
Santa Rosa
(707) 579-4452
www.schulzmuseum.org

In addition to permanent exhibitions of Charles M. Schulz's studio, Snoopy's Wrapped Doghouse (Schulz's tribute to Christo), and the Nursery Wall (where the artist drew members of the Peanuts Gang on his daughter's nursey wall), the Schulz Museum provides a wide variety of programs and presentations throughout the year, giving visitors opportunities to: meet professional cartoonists; view some of Schulz's favorite movies in a 100-seat theatre; make hands-on crafts and learn about different cartooning techniques.


Healdsburg Museum and Historical Society
221 Matheson Street
Healdsburg
(707) 431-3325
www.healdsburgmuseum.org

Visitors may enjoy both permanent and changing exhibits at the Museum. Colorful and comprehensive permanent displays describe various aspects of Healdsburg and northern Sonoma County history. Small temporary exhibits cover a wide range of topics related to northern Sonoma County history, and showcase numerous smaller items from the Museum's collection.


Luther Burbank Home & Gardens
Corner of Santa Rosa and Sonoma Avenues
(across the street from City Hall and Juilliard Park)
Santa Rosa
(707) 524-5445
http://ci.santa-rosa.ca.us/departments/recreationandparks/parks/lbhg/Pages/default.aspx

The Home, Greenhouse, and Gardens where the famed horticulturist, Luther Burbank, experimented with plants for most of his 50-year career. The Carriage House Gift Shop and Museum is open April through October. The grounds are open daily from 8:00 a.m. to dusk year-round for self guided tours and reserved Group tours.

Pacific Coast Air Museum
2230 Becker Blvd.
Santa Rosa
(707) 575-7900
pacificcoastairmuseum.org

A growing collection of aircraft and artifacts, aerial demonstrations, opportunities to climb abord real aircraft, and an annual "Wings Over Wine Country" Air Show.


Petaluma Historical Museum
20 Fourth Street
Petaluma
(707) 778-4398
www.petalumamuseum.com

The former library now houses Petaluma poultry, dairy, and Miwok Indian history exhibits from the 1850s.


Sonoma County Museum
425 7th Street
Santa Rosa
(707) 579 1500
www.sonomacountymuseum.org


The Sonoma County Museum celebrates and interprets the region's rich history, art, and culture by exhibiting and collecting relevant objects and artworks, by serving as a vital community gathering place, and by inspiring visitors with dynamic experiences that engage, educate, and enlighten.


Sonoma Valley Historical Society and Depot Park Museum
270 First St. W.
Sonoma
(707) 938-1762
www.vom.com/depot/index.html

A permanent exhibit depicts the Bear Flag Revolt of June 14, 1846. Other exhibits and displays portray Sonoma history from the Miwok Indian period, the founding of the Pueblo of Sonoma by Mariano Vallejo, glimpses of a kitchen, parlor, bedroom and schoolroom of pioneer days, and the original stage curtain from the Union Hall and Hotel in Sonoma. For railroad buffs, the Rand Room has the ticket counter, agent's desk, telegraph keys, brakeman's lantern, the big iron safe, train schedules and a map of early Sonoma Valley railroads. On the track behind the Museum are a caboose (open for visitors on request), refrigerator car and cattle car.


Sonoma Valley Museum of Art
551 Broadway
Sonoma
(707) 939-7862
www.svma.org

Sonoma Valley Museum of Art exhibitions feature the work of local, national, and international artists. Content originates from private collections and artist studios and is borrowed from museums, galleries, and other sources. Media include painting, drawing, sculpture, photography, ceramics, architecture, industrial design, graphic design, printmaking, film, video, textiles, and crafts.


West County Museum
261 South Main Street
Sebastopol
www.wschsgrf.org/wcm.html

The Museum occupies the restored 1917 Petaluma and Santa Rosa Electric Railway Depot. Museum exhibits are changed 2 to 3 times a year and focus on west Sonoma County history. Past exhibits have explored movies filmed in Sonoma County, historical toys, eclectic collections from the community, the World War II experience on the home front, the apple industry and apple festivals and fairs, early lighting devices, etc.

Tours
Mrs. Grossman's Sticker Factory
3810 Cypress Drive
Petaluma
www.mrsgrossmans.com


Guided one-hour tours Monday through Friday. The tour ends in the sticker art room where you'll decorate a postcard using Mrs. Grossman's stickers. Kids under 5 must be holding the hand of an adult.


Jelly Belly Factory
1 Jelly Belly Ln
Fairfield, CA 94533
1-800-9-JELLYBEAN (1-800-953-5592).

Step into our factory and smell the aroma of chocolate, peach, cinnamon, pineapple, or whatever is being cooked up that day. During the 40-minute walking tour on weekdays, Jelly Belly tour guides will show you a real working factory where we cook up over 150 different sweet treats. Learn the secrets to how we create the legendary Jelly Belly jelly bean, and discover why it takes more than a week to make a single bean. On weekends and certain holidays, we still conduct our full 40-minute guided factory tours, but since our candy makers are at home with their families, we give our candy making machines a rest. Video monitors show the different steps of our famous candy making process as you walk through the route.


Stores
Candy and Kites
1415 Coast Highway 1
Bodega Bay
(707) 875-3777
www.candyandkites.com

Specializing in kites, windsocks, flags, books, air toys and beach toys, and also carries 80 gourmet flavors of Salt Water Taffy. You will find just about every type of kite available including stunt, traction and single line. Come to Doran Beach Campgrounds in Bodega Bay on Friday evenings from 6:00 pm - 7:00pm for the Friday Night Kite Fly with demonstration kites, or bring your own.


Guerneville 5 & 10
16252 Main Street
Guerneville, CA 95446
(707) 869-3404
www.guerneville5and10.com

From nostalgic candy and toys to Americana and collectibles, the Guerneville 5 & 10 is as ageless as the Redwood forests that surround it.



Wineries
Arrowood Vineyards and Winery
14347 Sonoma Highway
Glen Ellen
(707) 935-2600
www.arrowoodvineyards.com

The tasting room is set in a cute farmhouse, and they have a toy chest on the premises to entertain the little ones.


Benzinger Family Winery
1883 London Ranch Road
Glen Ellen
(707) 935-3000
www.benziger.com

Biodynamic Vineyard Tram tours in a tram pulled by a tractor several times daily, gardens with an aviary (including peacocks) and a small playground for kids make this a good family stop.


Cline Cellars
24737 Arnold Drive
Sonoma
(707) 940-4000
www.clinecellars.com

Features beautiful grounds and gardens, and is home to the California Mission Museum, showcasing handcrafted models of all twenty one California Missions made for the 1939 World's Fair.


Landmark Vineyards
Highway 12 and Adobe Canyon Road
Kenwood
(707) 833-0218
www.landmarkwine.com

Owned by descendents of the John Deere Tractor Company founders, Landmark Vineyards has John Deere toys for sale, coloring books and crayons for kids, as well as a bocce ball court, picnic area, and horsedrawn wagon rides through the vineyards on Saturday mornings in the summer. Sometimes they set up lawn games on summer weekends as well. And in the summer, they give visiting kids Otter Pops.


Larson Family Winery
23355 Millerick Road
Sonoma
(707) 938-3031
(800) 938-WINE
www.larsonfamilywinery.com

A relaxed, family friendly winery on an old rodeo ranch with plenty of picnic tables, a bocce ball court, farm animals, and green grass for blankets.


Quivira Vineyards & Winery
4900 West Dry Creek Road
Healdsburg
(707) 431-8354
www.quivirawine.com

Quivira has an organic garden with chickens, goats and pigs for kids to look at, and they provide crayons and coloring pages in the tasting room.

Safari West


Santa Rosa

Johnson's Beach
Guerneville
Goat Rock / River's Mouth
Jenner
Air Museum
Santa Rosa (near side)
Airport Stadium 12
Santa Rosa
Pee Wee Golf
Guerneville
Charles M. Schulz Museum


Santa Rosa

Scandia Funland


Santa Rosa

Environmental Discovery Center


Spring Lake Regional Park

Burke's Canoes
Forestville
Fishing
Russian River
Armstrong Woods Pack Station
Guerneville
Rio Theater
Monte Rio
King's Kayak & Canoe Rentals
Guerneville
Mrs. Grossman's Sticker Factory


Petaluma
For Mom and Dad
Special Events
Indoor Activities
Museums
Outdoor Activities
Stores
Tours
Wineries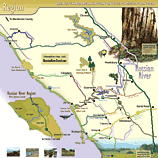 View Map
Learn the lay of the Rusian River area. Get things to do ideas.

Camping
A guide to camping at the Russian River. Information on Lake Sonoma camping.

Fort Ross
Historical fort used as a trading outpost by the Russians. Visitors welcome.

Lake Sonoma
2,700-acre lake with 50 miles of shoreline. Boating, camping, fishing, biking, hunting.