Unfortuantely there is not "one calendar to rule them all" for the area. Use our event highlights below in combination with looking through additional calendars.
Our Calendar By Month | Just Major Events
Night Life & Entertainment Venues
- Entertainment and night-life takes place daily. This is the complete guide to entertainment for all the Russian River towns. Learn where the happening scenes are in the towns you will be visiting. Find theaters, bars, karaoke, and more.


Calendars for all Sonoma County:

Sonoma.com
- Covers all of Sonoma County, search by month. Includes ongoing, weekly and monthly events.
North Bay Bohemian
- A week by week guide to what is happening and hip, although not all the events are in the Russian River area.
Sonoma West Times
- Good source for west Sonoma County / Russian River events and going ons.
Press Democrat - Good calendar for Sonoma County; can search by date, location and event type. Misses some smaller but important events.
Specialty Calendars:
Towns / Regional Calendars:
In the Spotlight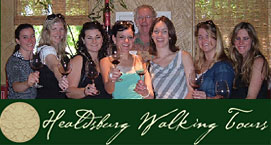 Healdsburg Walking Tours - Daily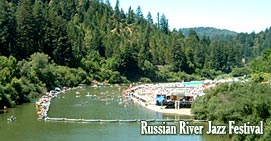 Jazz & Blues Festival - September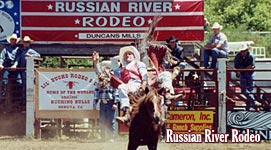 Russian River Rodeo - May & June

Food, Wine, Music, History, Art and More!
It is happening on the Russian River

The Russian River is known for its big outdoor events, wine festivals, food festivals, music, sports and more. There are over 60 major events yearly and continuous special events.

Additional Event Calendars Not finding what you are looking for? Please direct your questions to one of the area's visitor centers for professional help with your event plans or view the following list of additional calendars -