Canoeing & Kayaking
With all this great weather people are to planning their trips down the Russian River. Check out our canoeing and kayaking section for the resources you need.
Tubing
Tubes can be purchased at
Country Tire
in Guerneville. They charge $22.50 for a large tube, and $15 for a small tube - they don't offer rentals. Johnson's beach does rentals but they don't allow you to go off with them, you just have to float around there.
Photography
All the pictures on this website were taken from locations anyone could walk to (and many of them required no walking). There is an abundance of photo worthy scenes at every turn. It is not necessary to visit one of the parks to get pristine nature shots (the above picture was taken along a bridge just north of Monte Rio).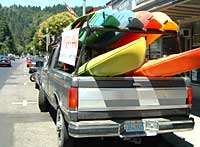 Rock Skipping
A time honored tradition along various smooth gravel covered banks of the Russian River.
Camping
There are several location that offer camping alongside the river.
Rope Swings
Sorry, we can't tell you where these are :). Finding them for yourself is half the fun. Don't worry though, it is hard to miss the guys flying out off the trees and splashing into the River.


Sun Bathing
Don't forget your beach towels and suntan (or sunblock) lotion.