Photo Galleries
Have a look at some of the photos we have taken of the Russian River area.

• Canoeing & Kayaking Photo Gallery • Scenic Drives Photo Gallery • Miscellaneous Photo Gallery • North Of Jenner Coast Photo Gallery • Be Inspired Dramatic Photo Series

Popular Photography Settings • Armstrong Redwoods
• Westside Road, Wine Country
• Lake Sonoma [right]
• Sonoma Coast State Beach
• And of course, the Russian River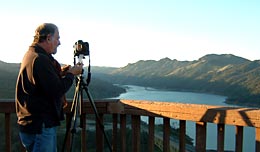 [above] Louis Jawitz takes photos for his New York based stock photography company. The setting is Lake Sonoma at dusk as seen from the Overlook.