Best of highlights
| | |
| --- | --- |
| | The award for best beach goes to Johnson's Beach, Guerneville. Throughout the sunny months Johnson's beach is the happening place to be. The river is a great escape from the summer heat. Everyone shows up ready to party, relax, and have a good time. |
| | |
| --- | --- |
| | Established in 1882, Korbel Champagne Cellars has been a part of America's greatest celebrations for more than 120 years. It has been the exclusive champagne of the past five presidential inaugurations, and was the champagne of choice for the Camelot years of the Kennedy administration. |
| | |
| --- | --- |
| | The award for best campground goes to Casini Ranch, Duncan's Mills. This place is fun! It is on the river, beautiful, there are plenty of well-spaced campsites and they have their own general store. Definitely consider this campsite if for you next trip. You will be pleased. |
| | |
| --- | --- |
| | The ancient coast redwood is the tallest living thing on our planet! These remarkable trees live to be 500-1,000 years old, grow to a diameter of 12-16 feet, and stand from 200-250 feet tall. Some trees survive to over 2000 years and tower above 350 feet. |
View all winners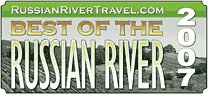 View the winners: select a category
Antique Shop
Art Gallery
Art Event
Bar
Bakery
Beach, Coast
Beach, River
Bike Trail
Bike Tour
Bird Watching Spot
Bookstore
Brewery
Brunch
Burger
Café
Campground, Car
Campground, Hike In
Canoe & Kayak Rental
Coffee House
Deli
Dining, Outdoors
Dog Friendly Park
Event
Family Activity
Festival
Fishing Spot
Gift Shot
Golf Course
Historical Site
Horse Rental
Hot Air Ballooning


Ice Cream
Music Festival
Movie Theater
Museum
Nature Hike
Park
Picnic Spot
Pizza
Real Estate Office
Redwoods
Restaurant
Restaurant, Fine Dining
Restuarant, Wine List
Restaurant, View
Scenic Drive
Scenic Vista
Spa
Sunset Location
Surfing Spot
Swimming Spot
Theater
Tide Pooling
Tour
View of the River
Wedding Site
Whale Watching Vista
Wine, Organic
Wine Tasting Room, Town
Wine Tasting Room, Winery
Winery Tour
View all winners
-A-
Antique Shop
Mill Street Antiques

Advertising, architectural, furniture, garden items, ephemera, coins, 50's Kitsch, shappy chic, books, Tools and fun collectibles fill this 20,000 square foot mall. Features over 30 dealers.
44 Mill Street, Healdsburg
(707) 433-8409

Wayne Skala's, Guerneville

Art Event
Art Trails
Respected as one of the first and finest open studio programs, ARTrails artists have been inviting the public into their work spaces since 1985. This Sonoma County Open Studios program continues to educate visitors to the creative processes of professional artists.
www.artrails.org

Art at the Source, Sebastopol


Art Gallery
The Quicksilver Mine Co.
Taps into the rich vein of artists and craftspeople who have made the beautiful rolling hills and rugged coastline north of San Francisco and the Golden Gate Bridge their home. They fill their shelves with the very best by artists and artisans living and working in Sonoma County.
6671 Front Street (Highway 116), Forestville
(707) 887-0799

Upstairs Art Gallery, Healdsburg
Christopher Queen, Duncan's Mills
-B-
Bar
Union Hotel Saloon
The history of the Union Hotel is more than the story of Occidental and the family that has called this Italian restaurant their own for five generations. The Union Hotel is also an important piece of history for each of the groups that have enjoyed special occasions under this roof.
3731 Main Street, Occidental
(707) 874-3444
Willis, Healdsburg



Continue...