Ride Lists and Details

Nowhere else can you ride through redwoods, along coastal trails, past wineries, over a river and back to your car parked in a country tourist town filled with cafes, shops and restaurants. Here we have listed some of the popular types of rides and given a sampling of what locations are the best for each. Continued below...

Ride guides from the web
Santa Rosa Cycling Club - Ten Great Rides
GORP Biking Guide - Russian River Rides
Bikemaster.com - 60+ Rides from Casini Ranch



...Continued

Wine Country - Leisure Cycling
We recommend taking scenic and mild rides through the heart of the region's wine country along West Side and East Side Roads. Also consider Joe Rodata West County Trail which extends from downtown Santa Rosa to Forestville. They all offer beautiful views of farms and vineyards.

Road Trip - Coleman Valley
Coleman Valley Road from Occidental, over the hills and down to the coast is a top pick. In and out of the forest's shade the scenic views are stunning and the road is virtually traffic-free.

Family Fun - Armstrong, Pomo Canyon, Lake Sonoma
The whole family will enjoy these easy, safe and scenic rides.
1. Peddling through the old growth trees of Armstrong Redwoods. 2. Biking secluded Pomo Canyon. 3. Cresting the hills above Lake Sonoma.

Serious Climbs - Armstrong, Lake Sonoma, Jenner Grade
Armstrong Redwoods into Austin Creek - 1400 feet, 3.4 miles
Up the coast north of Jenner - 1200 feet, 4.5 miles
Lake Sonoma to the Overlook - 1500 feet, 3.1 miles

Distance & Endurance - Sonoma Coast
Forty-eight miles along official scenic Highway One, the Sonoma Coast ride starts in Bodega Bay and ends north at the seaside town of Gualala. A rewarding ride for the seasoned cyclist.

Technical Single Track - Salt Point, Lake Sonoma, Annadel
Three locations offer exciting rides. Salt Point along the coast features a rugged wilderness terrain; Lake Sonoma north of Healdsburg offers a labyrinth of trails among the hills and is host to races throughout the year; Annadel State Park is a wilderness refuge outside of downtown Santa Rosa.

Fire Roads - Austin Creek Back Country
Explore miles of creek bottoms, ride past waterfalls, and power up hills in the back country of Austin Creek State Recreation.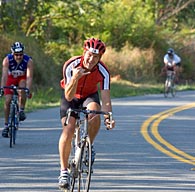 Bike Sonoma Map
The complete bike map for Sonoma Country and the Russian River.

Dry Creek Road
Stunning winescapes and many wine tasting rooms. Leads from Healdsburg to Lake Sonoma.