Great tasting wine that promotes healthy people and the environment

Town Hall Coalition
We are a grassroots social movement dedicated to promoting ecologically and economically healthy communities through responsible land use.
PO Box 1005
Occidental
(707) 874-9110
Five Compelling Reasons to Drink Organic Wine
1) Better Flavor and Taste
Organic farming starts with nourishment of the soil which eventually leads to the nourishment of the planet and ultimately, our palates. Perfectly ripened organically grown grapes offer pure flavor and great fruit intensity.

2) Keep Chemicals Out of Your Glass
Two-thirds of all pesticides on the market are not registered under current EPA health standards. Many EPA-approved pesticides were registered long before researchers linked chemicals to cancer and other diseases. Now the EPA considers 60% of all herbicides, 90% of all fungicides, and 30% of all insecticides to be potentially carcinogenic. The bottom line is that pesticides are poisons designed to kill living organisms and can also be harmful to humans. In addition to cancer, pesticides are implicated in birth defects, nerve damage, and genetic mutation.

3) Support Organic Farmer's and Their Health
Most organic wineries are small, independently owned and operated family vineyards, concerned primarily with the environment and its entire life-chain. Farmworker health is a major concern. A National Cancer Institute study found that farmers exposed to herbicides had a six times greater risk than non-farmers of contracting cancer. An estimated one million people are poisoned annually by pesticides.

4) Protect Groundwater Quality
Organic farming protects and conserves our water resources. According to EPA estimates, pesticides are contaminating the groundwater in thirty-eight states, polluting the primary source of drinking water for more than half the country's population.

5) Prevent Soil Erosion
Soil is the foundation of the food chain in organic farming. Due to our history of conventional farming methods, we are suffering from the worst soil erosion in history.


Definitions
Organic Grapes
Grapes produced without using most conventional pesticides; fertilizers made with synthetic ingredients or sewage sludge; bioengineering; or ionizing radiation.

Organic Wine:
Wines made from organically grown grapes and carefully vinted within the standards of organic wine processing now under review by the National Organic Program (USDA).

Biodynamic Grapes:
Ultra-organic method of agriculture based on the theories of Rudolph Steiner, recognizing the basic principles at work in nature and taking these principles into account when approaching agriculture to bring about balance and healing.
The Map - View Printable PDF (1.95 MB) | View JPG (148 KB)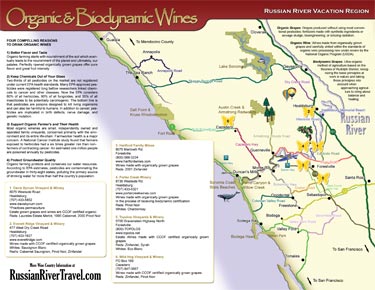 The Wineries
Davis Bynum Vineyard & Winery
8075 Westside Road
Healdsburg
(707) 433-5852
www.davisbynum.com
*Practices permaculture
Estate grown grapes and wines are CCOF certified organic:
Reds: Laureles Estate Merlot, 1995 Cabernet, 2000 Pinot Noir

Emtu Estate Wines
6111 Van Keppel Road
Foresville
(707) 887-1239
emtuwines.com
Wines made with estate-grown CCOF certified organically grown grapes.
Whites: Chardonnay
Reds: Pinot Noir, Rosé of Merlot
Everett Ridge Vineyard & Winery
477 West Dry Creek Road
Healdsburg
(707) 433-1637
www.everettridge.com
Wines made with CCOF certified organically grown grapes:
Whites: Sauvignon Blanc
Reds: Cabernet Sauvignon, Pinot Noir, Zinfandel

Hartford Family Wines
8075 Martinelli Rd.
Forestville
(800) 588-0234
www.hartfordwines.com
Wines made with organically grown grapes
Reds: 2001 Zinfandel

Porter Creek Winery
8735 Westside Rd.
Healdsburg
(707) 433-6321
www.portercreekwines.com
Wines made with organically grown grapes
In the process of receiving biodynamic certification
Reds: Pinot Noir
Whites: Chardonnay

Topolos Vineyards & Winery
5700 Gravenstein Highway North
Forestville
(800)-TOPOLOS
www.topolos.net
Estate Wines made with CCOF certified organically grown grapes
Reds: Zinfandel, Syrah
Whites: Eco Blanc

Wild Hog Vineyard & Winery
PO Box 189
Cazadero
(707) 847-3687
Wines made with CCOF certified organically grown grapes:
Reds: Zinfandel, Pinot Noir