What you need to know:
Parking
Parking is available on Merced Avenue or in the town of Sebastopol, CA, next to the trail head located off of Petaluma Avenue.
Dogs
Permitted on leash no longer than 6' in length. Rabies certificate required.
Facilities
No restrooms or drinking water is available.
Trail Highlights - From Rails to Trails
lThe West County Trail is built along land that was once the Petaluma and Santa Rosa Railway, a line that linked Petaluma and Santa Rosa with Sebastopol and Forestville. When completed, the trails will be thirteen miles long. Bicyclists can travel from the Joe Rodota Trail segment of the West County Trail via Sebastopol streets to Moore Street, next to Analy High School. The West County Trail is paved for walking, bicycle riding, and roller skating and runs along an abandoned railroad line. An unpaved equestrian trail runs parallel to the paved trail. Designated as a Community Millennium Trail, the trail offers beautiful views of farms, vineyards, and other agricultural lands. Fall and Spring are particularly beautiful times of the year to use the trail. Please note that new sections of the trail are being developed all the time. If you want updated information, please contact us at (707) 565-2041.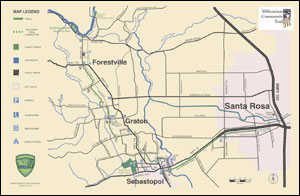 PDF - Printer friendly map