140 years and over 20 floods later,
we have a reason to celebrate.
RussianRiverTravel.com declares the first week of March flood acknowledgement week.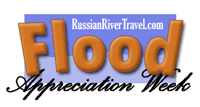 Floods have been part of the Russian River ecosystem for its entire history. Now, during the first week of March we invite you to take time to enjoy the grandness of nature and see the magnificent effect of the natural flushing has on the valleys in the region. The re-growth cycle is especially active for wildlife viewing.
Have you never been at the Russian River during a flood? Unless you live in the area during a flood, the National Guard closes the roads to non-residents. Witnessing a flood reminds us of the awesome power of Mother Nature and allows us to appreciate how resilient the residents and business owners in the region are. It is one of those things that makes a great conversation topic – everyone has an exciting story to tell. Life here would not be so exhilarating without our floods.
The best way to increase your chances of seeing a Russian River flood is to visit often during the winter.
For visitors and residents - we don't love the Russian River because it is mellow. The area first attracted people because it was the frontier of the west coast with breathtaking, dramatic natural beauty. This is why we are still here today.
Media Requests:
Tao Klauenburch
RussianRiverTravel.com
The Visitor Website for Northwest Sonoma Country
PO Box 526
16350 Third Street, Suite 3
Guerneville, CA 95446
(707) 633-4671